Richard Ross, director of Norwich-based Chadwicks, has been moving increasingly from active to passive investing as a result of his research.
'Going back four or five years, I was 100% active,' he said. 'Since doing an economics degree and finding out more about the market, I've become more convinced that passives are the way to go.'
He believes finding an active manager who is likely to outperform is an impossible task. 'I have yet to find anyone with a convincing way, backed by research, to select an active manager that is likely to outperform,' he said.
'That is slightly different from saying that fund managers will not outperform. What we do not believe is that we are able to develop a system that helps us to identify in advance those managers that are likely to outperform. Philosophically, what we look for is an investment proposition based on something other than our judgement.'
Dimensional Global Short Dated Bond
Cost: OCF of 0.31%
Structure (eg full replication, synthetic, etc): Not tracking an index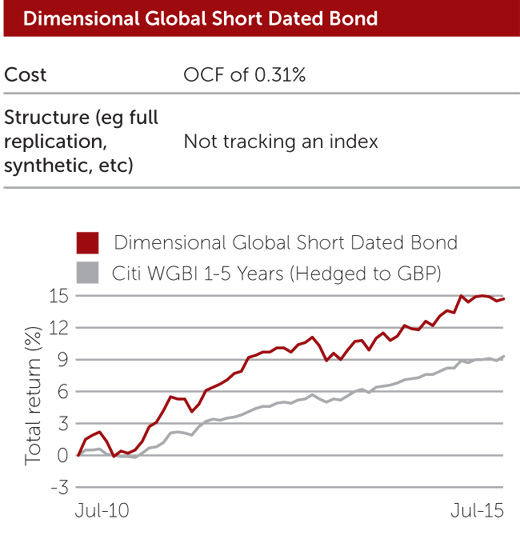 The behavioural argument
Ross believes behavioural finance, although often used by active managers, supports the case for passive.
'People tend to be overconfident,' he said. 'We have too high an opinion of ourselves and our ability. That is very costly for clients.
'If you are going to choose an active manager, it's very difficult to do that without starting from the point of looking at past performance. Based on research, past performance is a reasonably good indicator of future poor performance. They are more likely to mean revert.'
Chadwicks does have active exposure in property, however, to provide diversification.
'Other than that, everything is 100% passive or managed on the basis of scientific research,' said Ross. '[Nobel laureates Eugene] Fama and [Kenneth] French sit on the board of Dimensional Fund Advisors, which gives an indication of the way they think.'
Fama and French are well known for their three-factor model, which adds size and value factors to the market risk factor in the capital asset pricing model.
'I subscribe to the efficient market hypothesis, but am more impressed by Andrew Lo's work on the adaptive markets hypothesis, which provides a behavioural twist,' said Ross.
Chadwicks uses the Dimensional Global Short Dated Bond fund as a way of reducing risk in fixed interest, as Ross is concerned about the 'potential for increased volatility in fixed interest as we come to the unwinding of quantitative easing'.
L&G Global Technology Index Trust
Cost: OCF of 1.16%
Structure (eg full replication, synthetic, etc): Physical
Alternative to emerging markets
Ross selected the Legal & General (L&G) Global Technology Index Trust after his technical analysis 18 months ago showed 'emerging markets was not going to be the place to be'. A lot of the underlying exposure is Nasdaq-listed global multi-nationals, 'so we are conscious of doubling up on our US exposure', he said.
'We wanted to give clients a similar risk profile to emerging markets, which did not represent the same downside risk in technical analysis terms,' he said. 'Although the last few months have not been good, over the last 18 months it has performed very well especially relative to emerging markets. We like L&G for this particular fund.'
Vanguard FTSE UK Equity Income Index
Cost: 0.22% (Morningstar as of 17/02/15)
Structure (eg full replication, synthetic, etc): Physical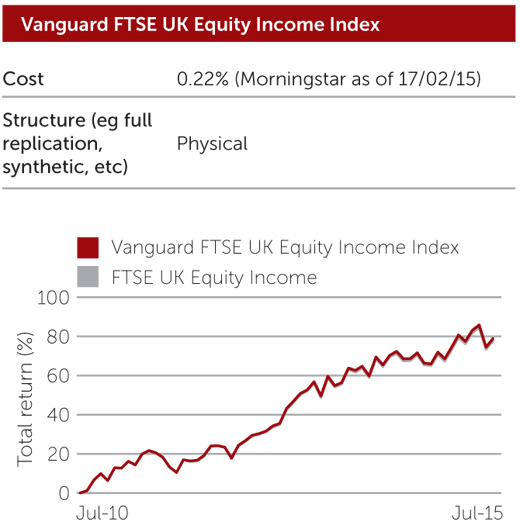 Long-term income investment
Ross also uses the Vanguard FTSE UK Equity Income Index fund, and likes Vanguard generally on cost grounds.
'Vanguard FTSE UK Equity Income Index provides slightly more exposure to income-producing stocks,' he said. 'Vanguard [funds] tend to be quite keenly priced. The pricing structure encourages long-term investment in the fund. You get penalised for short-term investments by the upfront fee.
'The philosophy of the company as a whole fits well with our philosophy,' said Ross.
'At the time of selection, this was the lowest cost. But today BlackRock is slashing all its passive fund prices. We'll have to see whether there's any reason to move at the next rebalancing.